Wilson, Williams glad to leave junior college behind
Two of Kentucky's early enrollees came from the junior college ranks. "It's heaven here."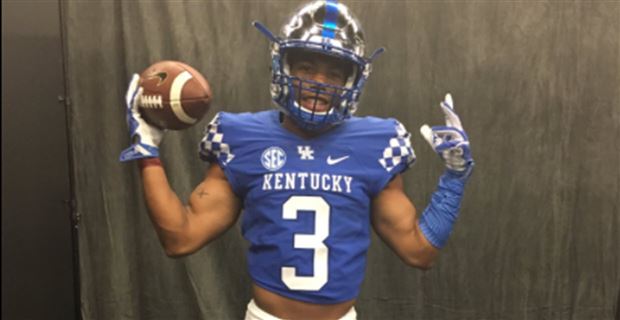 When new defensive back Domonique Williams took his official visit to Kentucky, he and host Lonnie Johnson had a fast connection over at least one topic.
"(Lonnie) told me he wasn't going back to Kansas either for the most part," Williams said.
Williams, a native of Tennessee, and Johnson both played junior college football in Kansas before signing with Kentucky. New quarterback Terry Wilson, like Johnson, transferred from the University of Oregon to Garden City Community College before joining the Wildcats. For those players, making it out of the grind of juco life to Division I couldn't have happened soon enough.
"(Lonnie) said he left his car and a TV and some other stuff out there," Williams said. "I think I left a TV. I left like two comforters and some shoes. My mama got mad at me about that stuff, but I just let my roommates keep all of that."
The adjustment to an SEC program has begun for both players. Williams, who said he thought he was "going to die" during his first workout at Kentucky, is getting used to the size of Lexington compared to Highland, Kansas. Williams said the town had around 600 residents and could be walked through in five minutes. At Kentucky, Williams was late for a few of his classes early in the semester because he misjudged how long it would take to walk around the campus.
Still, the experience so far at Kentucky has been better for Williams.
"It's a whole different atmosphere coming from Highland," Williams said. "As soon as I got out there I was ready to leave. As soon as I got here I could tell it was a big difference. I just love it here, way more than there."
As far as Wilson is concerned, the opportunity to become a starting quarterback at college football's highest level brought him to Lexington. Playing time at Oregon was a big factor in leaving Oregon after spring practice in 2017. At Kentucky, Wilson will compete with sophomore Gunnar Hoak and redshirt freshman Danny Clark for the quarterback position.
While Wilson is still getting to know his teammates, Williams is already familiar with his game. The two matched up in junior college, with Wilson's team getting the better of Williams. Wilson got the win, but Williams scored a touchdown on special teams.
"That's my dude," Wilson said. "We hang out every day, walk to class together. So, yeah, we've talked (playing one another) a few times. It's pretty cool. We've played JUCO together and now we're here. It's pretty awesome."
Both players are working to see the field at Kentucky, but the joy of being in the SEC is still setting in.
"It's awesome," Wilson said. "I forgot how it was going through six months at JUCO. It's heaven here. I call it heaven. It's great."
———————————————
Follow The Cats' Pause beat writer Derek Terry on Twitter. Contact him by email at derekterry@catspause.com.